Croydex Solid Wood Toilet Seat, Antique Pine
SHOW PRICE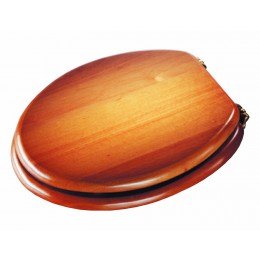 Trying to find a toilet seat for your home that is both comfortable, efficient cost effective and looks good? Well, your search can take quite a while because you are searching for the perfect type of toilet seat!
Thankfully, this Croydex Solid Wood Toilet Seat comes with a stunning antique pine design and a wood that requires a lightsaber to chip and stain! It's extremely resilient and strong, meaning that you can rely upon it to last you for many years after the time of purchase. It's hard to find a good and reliable toilet seat for a fair price but this is well worth your time if you need something today. The chrome fixing and fittings mean that they are going to last for the long-term as well as making sure that you can get the fittings installed as safely and effectively as possible.
It's very easy to clean as there are no bumps, marks, nooks or crannies with this toilet seat – what you see is what you get. Therefore, cleaning it has never been any easier and when you compare it to many of its opponents out there on the toilet seat market it cleans much easier for the competition due to the smooth and resilient design. At just about £25 it's an absolute steal!
Dimensions
Width: 38cm
Length: 48cm